Why to choose Logo Maker Pro?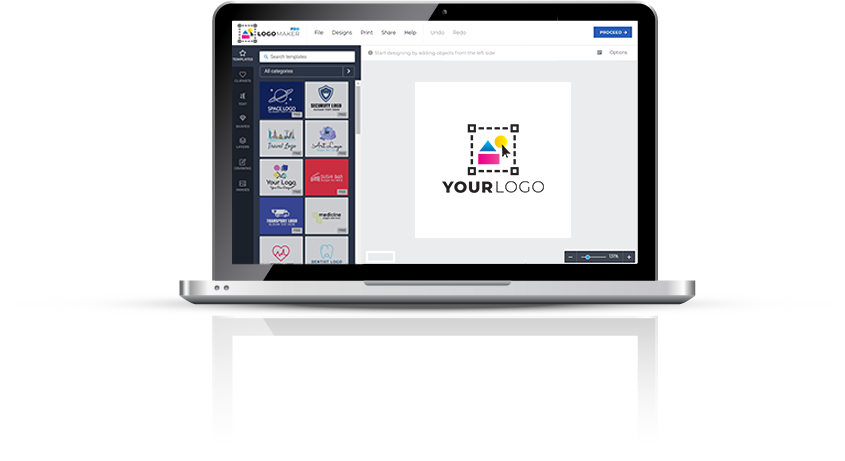 1. Logo Maker Pro is fast and easy to use
You can make your own professional logo design in less than 5 minutes. Logo Maker Pro has an intuitive interface which allows you to find and use every feature fast and easy. You can start using Logo Maker Pro without the need of learning new skills.
You don't need to spend hours to find the best logo design idea. Or to search for a graphic designer. Or to pay or download any graphic design software. Logo Maker Pro has it all – it is online tool available for you at anytime and anywhere to start your idea. Logo Maker Pro has many logo templates, shapes, cliparts and icons for any kind of business. The easiest way to start is to choose the right category of your business and pick a logo template. You can modify, mix and combine logo templates, shapes, cliparts and fonts.
2. Download your PNG and vector PDF logo files
You can download your logo made with Logo Maker Pro in PNG and vector PDF format. You can edit your vector PDF file in Adobe Illustrator too just like an SVG or AI file.
3. You don't need any specific skills
Many graphic tools say that "you don't need design skills" to use them. But the most of them are so full of unnecessary features, buttons and "Help Instructions" that you can only get more confused. Other tools work in another, much easier way – they work as generators. You can choose from many automatically generated logo templates. You can put your name and may be you could have a chance to change the colors of the logo. They will give you many suggestions based on your business category but they don't have many basic features that you might need. For example, you won't be able to change colors, fonts, shapes, graphics and make your own customization. This is what Logo Maker Pro gives you in an easy way. You can choose to use our premade templates but you can modify them or make your own logo from scratch.
4. Logo Maker Pro is always online for you to make a new logo for your next project.
You don't need to install or pay anything to start. Just visit LogoMakerPro.com. You can start your idea in a few clicks. If you like the result and you want to download it, you can pay and get high-resolution PNG and vector PDF files. After your successfully completed purchase you will receive the files on email and a 3-day access to your logo page where you can edit and download your design as many times as you want.
5. Logo Maker Pro gives you hundreds of free logo templates, cliparts, shapes and fonts
The best and easiest way to make your own logo design is to start from a premade template or to find logo ideas suitable for your business. If you want to use a template from Logo Maker Pro but you prefer to change the icon, shapes, fonts you can easily do it. Type the name of your business or idea, customize everything the way you want and your new logo is ready!
6. You can add and use your vector SVG files in Logo Maker Pro
If you want to upload an image even if it is a SVG file image, you can do it from the "IMAGES" tab at the main Logo Maker Pro menu at the right side of the editor.
7. You can try Logo Maker Pro for free. Pay only if you want high-resolution and vector files.
You can test Logo Maker Pro for free and pay only if you are satisfied with the result. This means that the payment is needed only if you want to use your new logo made with Logo Maker Pro. You don't need to pay to try it or for a subscription to use Logo Maker Pro. It is much more simple than that – start making your new logo and when it is done, you can pay to download. You will get your files on email as a download link. You will also receive a link to you logo page where you can edit it and download the new design again.
8. One time payment for unlimited editions and downloads for 3 days
You might want to make some changes to your new logo even after you complete your order. That's why we will give you an access to your logo editor page for 3 days. For that period you can edit and download your logo unlimited times from Logo Maker Pro.
Note: If you open your vector logo file on your computer you must know how the fonts will work on your computer. If a file contains a font that you don't have already installed on your computer, your logo won't look the same as you expect. You must first download and install all fonts that you have used for you logo on your computer. Logo Maker Pro uses only Google Fonts. They are free for personal and commercial use. Learn how to easily install Google Font on your computer here >>