How to create your own logo
Choose a starter logo design from our
template gallery
that comes closest to your idea.
Enter your brand name. You can add text, icons, shapes and cliparts. Change the colors and fonts if you want.
3
ORDER TO DOWNLOAD FILES
Process and complete the order. You will get high-res and vector files + unlimited 30-day customization period.
Hint #1: While working with the logo maker, save every version of your design that you might want to use later. When you are ready, you will be able to use, edit and download any of the saved designs.
That's all you have to do to create a professional logo. And yes, it is easily achievable in minutes.
Start now by choosing a template that best suits your needs.
Professional logo maker for non-professionals
Make your own logo without wasting your time.
You don't have to install any software or application, or to learn any new graphic design skills.
It has never been easier to make your own logo
Use Logo Maker whether you are a professional or not. Even if you make your own logo for the first time in your life. Previous experience is not needed. Just launch Logo Maker Pro and get started.
With our ready-to-use logo templates the logo creation process is optimized to the smallest detail. You can also use the thousands of free fonts and vector graphics to customize your design. Here your will find the most useful customization features and options: Text styles, Cliparts; Upload photos (including vector SVG images); Elements – Vector Shapes, Icons and others. Everything you need to make your own logo in the way that you have always wanted - fast, risk-free, easy, at the lowest price and with achieving professional result.
Your own logo design library & unlimited 30-day usage
Save & download multiple designs
Save your favorite designs for later
Sometimes to make your own logo, you need to create various designs, see them in action and choose the best one of them. You can save as many designs as you create and come back later to revise and complete them. With Logo Maker Pro, you can also change and recreate your logo design even after you have already completed your order. You can do it without limitations within the next 30 days. Create designs and save any of them. While your 30-day customization period is active, you can load them from Saved Designs and download them one by one.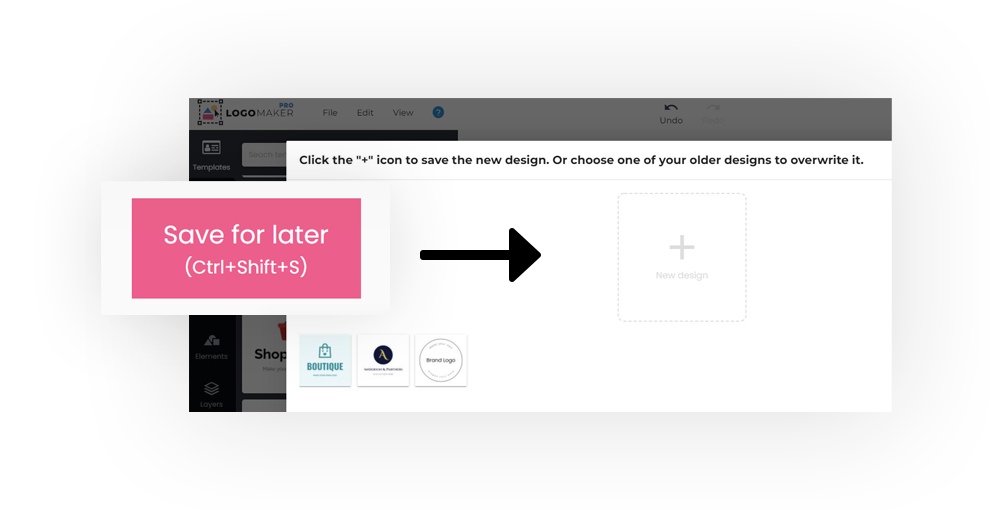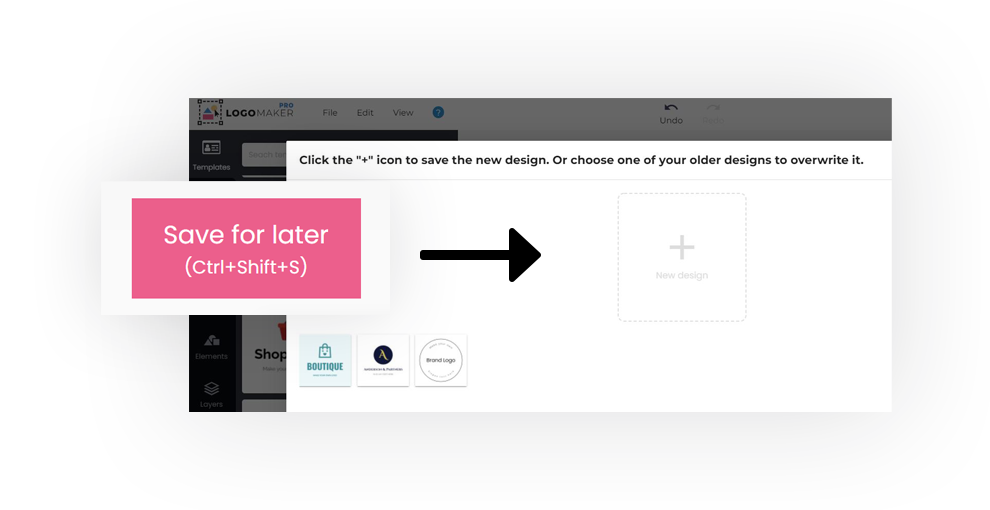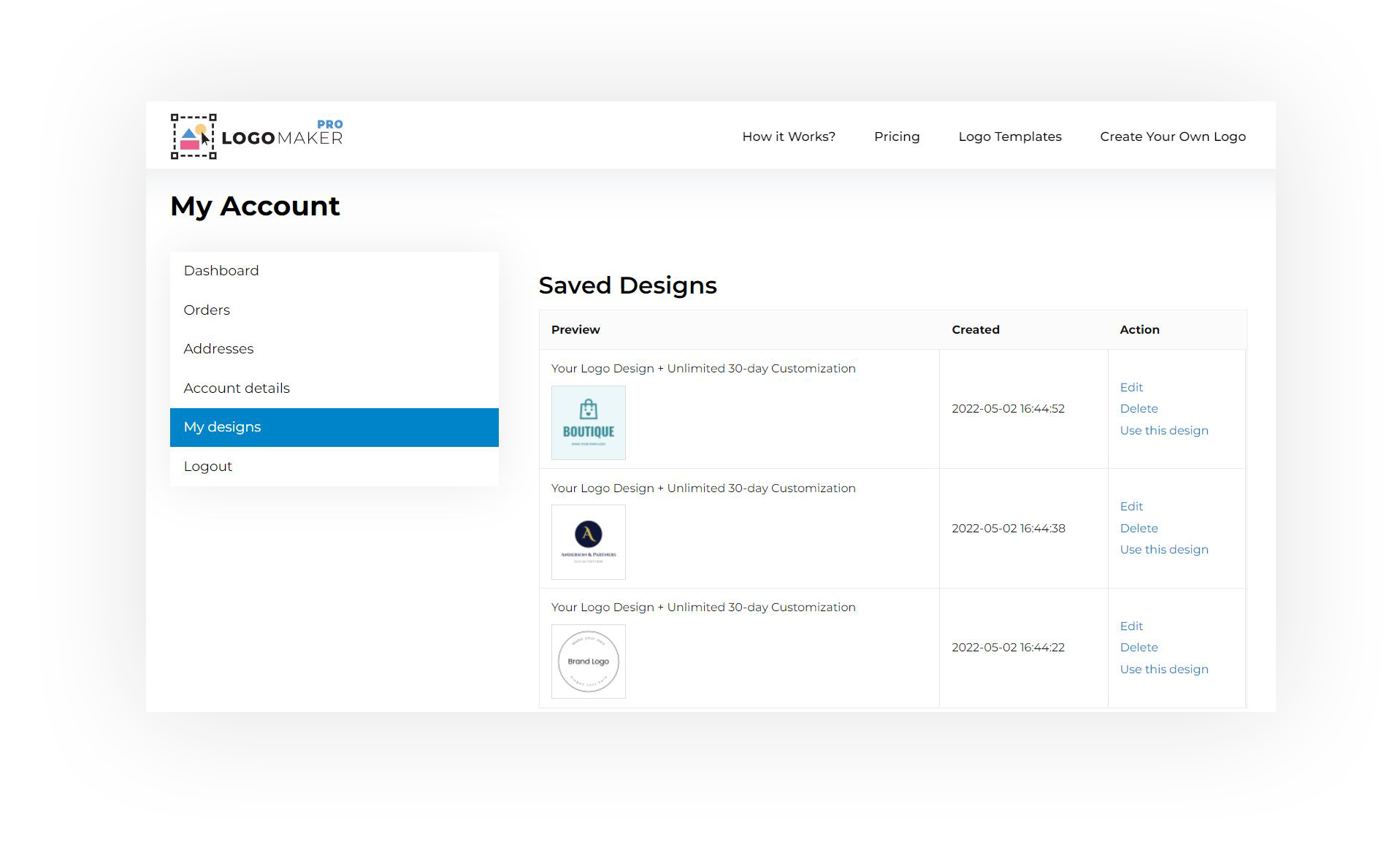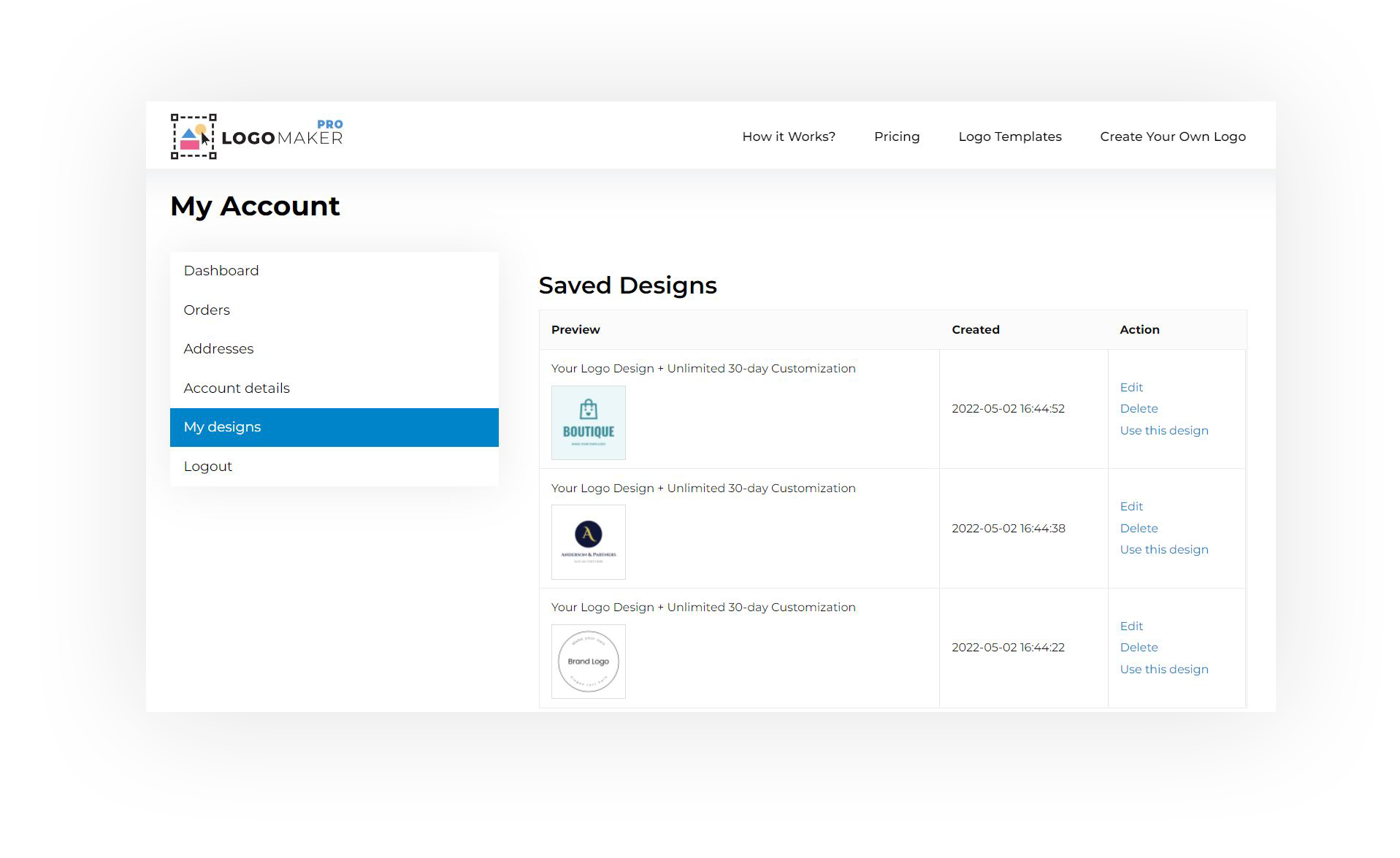 Manage saved designs in My Account
You can find your saved designs in My Account > My Designs. As we noted - you can edit, redesign and download them unlimited times during the 30-day customization period. To get one - you have to make your own logo and complete the order. Even if you are not certain about the design or it isn't your final idea, you will be able to modify it or make a completely new one within next 30 days. Throughout this period, you can also edit and download your saved logos from My Designs as many times as you want.
Export & Import design files
Hint #2: Download a working file of your design for future purposes by clicking File> Export Design. Import it from File> Import Design. With this file you will able to edit and redesign it whenever you decide again.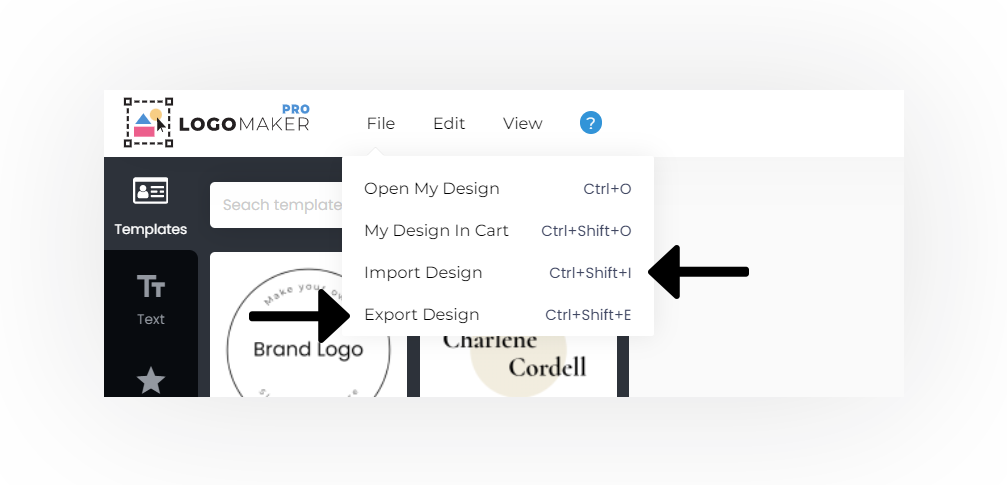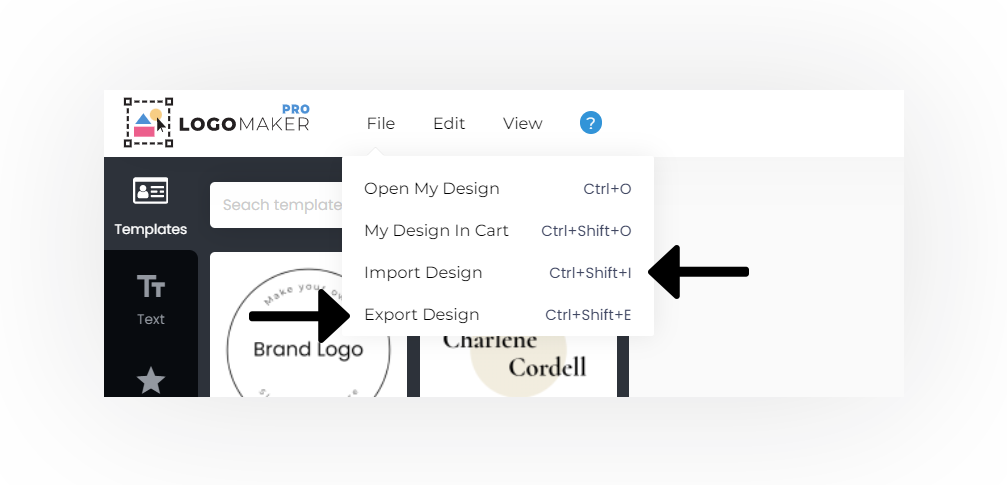 Make your own logo with Logo Maker Pro
without installing any software or apps. No special skills are required.
Make your own logo for free. Pay only if you like it.
Try Logo Maker Pro! No payment and registration needed.
Use our free logo templates, fonts & graphics or start from scratch. Proceed with the PRO plan if you want to keep your logo.
FREE
Get Logo Design Files & Unlimited 30-day Customization Period
Download PNG + vector PDF & SVG logo files. Edit, redesign and download it as many times as you want within the next 30 days.